Uttoxeter
Agricultural Society
Part of Staffordshire and Birmingham Agricultural Society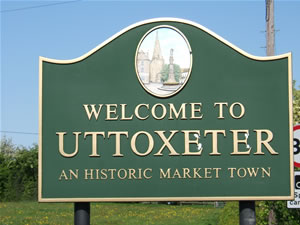 Abbots Feeds Ltd. 01335 330595
AJP Fabrications 01889 563007
Alkmonton Tractors 01335 330460
B & C Washing Machines 01889 565998
Brooks Butchers, Hatton 01283 813385
C & R Transport 07866 631373
CLA Risk Assessment (Lorraine Worthington) 07966 483038
Dean Statham Wealth Management
Emo Fuel & Oil 07717 807524
Gladfield & Crudas Solicitors 01889 565657
Glenthorne Veterinary Group
Goodwin Farm Services 01889 500303
Jeff Harrison 01283 733254
Harvey Hughes Independent Rural Consultants
Jackson, JF Marquees 01538 722699
Alan James Financial Services 01543 444488
Johnson Fencing Ltd. 01889 500552
J G Farm Supplies 01889 491135
Mary Mays Flowers 01889 358008
Peake Plant Transport 01538 751721
Nigel Phillips 07976 158276
T. G. Sargeant & Sons 01889 563353
Chris Seabridge & Associates Ltd. 01785 710564
M G Simister & Son 01335 324416
P. Slaney Ltd. 01283 820306
Staffordshire County Showground
Staffordshire Farm Supplies 01538 266718
Stone Tyre Repairs 01785 816279
P Swinson 01889 567042
SWP & JA Talbot Electrical Contractors 07970 802422
Tithebarn Supplement Specialists
Triple H 07930 356645
F Watson & Sons, Metal Merchants 01785 812953
PW Wilcox & Sons Haulage 01630 638292
Please support our Advertisers in our new Year Book listed below whenever possible
and mention the Uttoxeter Agricultural Society Year Book when doing so

Please note any entries on our whole site in green and underlined are, with a left CLICK, a link to another web site or page
For information and ideas of content to this site
please contact either myself on 07967 046609
or Jenny 502471 (01889) sasuttoxeter@hotmail.co.uk
More information on
Alan Critchlow
and some District News
courtesy of
Please note
Following the fact that Windows 10 Update
totally crashed my computer
Many items such as photos are not available at present
Be aware of Telephone & Text
Number Spoofing.
Scam Bank & Text callers can imitate
Banks & official phone numbers.

Dates for your diary
Wed 5th June Committee Meeting at Bradley House
Sun 7th July Summer Lunch at Claire & Peter Pratt's
Radmore Lane, Abbots Bromley
Wed 7th Aug. Committee Meeting at Bradley House
Sat 14th Sept. Ploughing & Hedge Laying Match at Fole
by kind permission of Mr D A Stubbs & Family,
Nobut Hall. Leigh, Stoke on Trent, ST10 4QH
Fri 27th Sept Annual Dinner
Wed 16th Oct. Committee Meeting at Bradley House
Wed 13th Nov. AGM at Bradley House 8.00 pm.
Congratulations to
Uttoxeter District
on winning
the District points cup
at the Annual Dinner
Uttoxeter District Competitions – 2019
Dear Member,
Please find attached the Uttoxeter District Competition Schedule for 2019.
Classes and entry closing dates are set out in the schedule.
If you wish to enter any of the competitions please complete the entry form attached and return to the secretary before the individual competition closing date.
A confirmation will be sent to verify that entries have been received.
If you do not receive confirmation please ring me on 01889 502471 before the competition closing date to check that your entry has been received.
No entries can be accepted after the competition closing date.
The County Competition Schedule is also now available. The Committee would like to encourage any Members entering County Competitions to record that they are from Uttoxeter District on their entry forms. If you wish to enter the County Competitions and haven't received a schedule or entry form you can download them from the County Website: www.staffscountyshowground.co.uk